What's up guys? I still have some free time and since Roger is only playing on Wednesday I thought I'd make a post about this whole 'situation' surrounding Roger right now. We have had some great discussions on my blog and I'd like to try and sum it all up and put it in perspective. Since Roger's loss to Del Bonis there has been quite a bit of panic and resignation among Fedfans. I have no doubt a few more so called fans have jumped ship. But they were never fans to begin with. They were just along for the ride as long as Roger was winning. These are people of questionable character because as soon as things get tough they run away. It was nice to see all the comments after my last post from the real fans showing their support of Roger and my blog. For a second there I thought you guys had given up as well. It was no doubt another tough loss to swallow.
There is nothing wrong with feeling frustrated and disappointed after such a loss. But if you stay in that mode it becomes a problem. When people act like that as fans it shows me something about how they act in their owns life when faced with disappointment. This is where Roger has taught me a lot. The way he comes back from disappointments is fantastic because he has a way to focus on whatever positives there are and gets over it fast. When I was a tennis player tennis taught me a lot about life. It is the same with this blog. It is not just about tennis, but about life at large and how I can apply things to my own life as well. Roger is a positive role model in a world where they are few and far between. In our society we put people on a pedestal who don't deserve it. Look at how Tiger Woods was idolized for instance and how he proved to be undeserving of it.
Or Lance Armstrong for that matter. One should never put one's trust in people, unless the person is truly spiritually enlightened. Roger is not my spiritual guru or anything, but I do believe he has good moral values and sets a pretty good example of how to live one's life. He is disciplined, ambitious, he loves what he does, he is a good father and husband. He is just a good clean guy and keeps things simple. He doesn't do anything that hurts the image of the sport or the people that idolizes him. He doesn't let the fame and fortune go to his head like so many people do. He stays grounded and surrounds himself with good people. It is all about his motivation for playing tennis which is love for the sport. He is totally dedicated to tennis and doesn't get distracted by other things. The love he has for the sport is enough for him.
Of course he has a wife and kids(whose birthday it is today), but they fit in very well with his tennis career. I think Sampras was a pretty good role model too but Roger is just a better version. He loves tennis more than Sampras did and he is just a little better in every way. And again I'm not saying Roger is perfect. He has his flaws and we only know him as fans anyway. But as far as being a fan goes he is as good a role model as you can get. I guess the reason I am saying all this is because I am trying to say that being a fan of Roger is more than just winning. He brings other good things into my life, and the people who desert him only cares about winning, which is an empty and shallow way of being a fan. Tennis and life is about more than just cold, clinical winning. Yes we all like to win but what if it is done in an immoral way and hurts others?
Unfortunately this is so often the case in the society we live in. It is all about greed and selfishness. People will kill and hurt each other and nature in order to win. It is like a sickness and it threatens to destroy humanity's very survival. That is why it is so important to have role models like Roger, and not ones like Lance Armstrong and Tiger Woods. These are false idols who promote ego gratification over the betterment of the whole. Nadal has not been involved in a scandal yet but I also view him as a false idol who promotes egotistical values. He just has that whole vibe about him. But that is just a personal thing and like I said at least he has not been involved in a scandal. So now you know why I don't just jump ship when things get tough. But it is more than that. I love the way Roger plays and he has had a terrific career.
Smiling and has every reason to.
In fact there has never been a player who has had a better career. Seriously, what does it take to satisfy people? If you are not gonna be happy as a fan of Roger Federer then you are never gonna be happy as a fan. You will keep jumping ship every time the player you worship runs into adversity. And that is no way to be a fan or to live life. You gotta tough it out. Dig deep. The night is always darkest before the dawn and in that sense failure and disappointment is a good thing, because it is the beginning of something good. It is all about having a positive attitude and no one is a better example of it than Roger. I have no doubt things will turn around again for Roger. Haven't they always? So Roger had a good start to the second half of the year by winning Halle, but then had one of the most disappointing losses of his career against Stakhovsky.
Lets look at another example where Roger had a tough loss and what happened afterwards. Lets go back to the 2009 Australian Open final. For me personally that was by far the most devastating loss of Roger's career. The second round loss at Wimbledon pales in comparison. What happened after that loss? You know but I will tell you anyway. He won that illusive French Open title to complete the career slam and followed it up by breaking Sampras' slam record with a 6th title at Wimbledon. This is what makes Roger a champion. Being a champion is about how you come back from adversity, and Roger did it in the best possible way in 2009 after the most crushing loss of his career. If I have to choose a defining moment of Roger's career it would probably be be how he turned disaster into success in 2009.
And if you want to break it down to a single point it would be that inside out forehand winner against Haas he painted the line with when break point down in the third set after losing the first two. These are the moments that make or break players, and it made Roger because after that he came back to win the match against Haas in five sets, the French Open title itself, and then Wimbledon. So if anyone can come through this current adversity it is Roger. His love and passion for the game will pull him through like it has so many times before. The loss at Wimbledon made the good work at Halle undone and he had to start over in Hamburg. Of course we hoped he would win it, especially with the way his draw turned out. I guess we keep making the same mistake of expecting too much. Expectation is not good because it leads to disappointment.
In hindsight he needs more time. We can't just expect him to go out there and win Hamburg right after he got beaten by a journeyman. If the Wimbledon loss destroyed the confidence he gained from winning Halle then he was back to where he was after the French Open, where he had just been destroyed by Tsonga in straight sets. And losing in straight sets to Tsonga on clay is a confidence destroying loss for Roger. So losing to Del Bonis was actually not that surprising. If your confidence is low it doesn't just come back after one event. Roger's confidence has been low ever since after the Australian Open. I think people are expecting too much too soon. And I include myself in that group. But I know better now. Having said that, I do hope Roger can win Gstaad. I am not putting expectations on him.
I am just saying that if he wants to have a good hard court season and possibly do great things then he needs this title. I just feel like he needs to get that winning feeling back before he crosses the Atlantic Ocean. The problem with the grass court season is that it is so short. Roger could only afford to play one warm up tournament and then it is make or break at Wimbledon. At least now he has some more time to get ready for the big one in New York. He already has some matches behind him now and I think things will go well in Gstaad. I just have a good feeling about it. The draw is good and he is playing in his back yard. Yes he may not win it but that is not gonna stop me from being optimistic and hoping he can do it. As far as the new racquet goes we have already had some good discussions about it on my last post so you can go read there.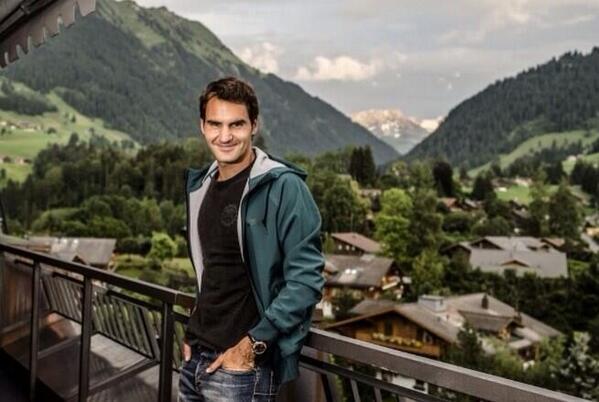 The gut is gone and Roger looks happy in his own back yard.
I'll just echo what Darren Cahill said when he said that it will take time for Roger to harness the extra power from his new racquet and that the playability of it can only really be adjusted to during match play. So it is still a work in progress but it doesn't have to take until the end of the year to adjust like some have suggested. A lot of it has to do with confidence. As Roger wins more matches he will grow in confidence while adjusting to the racquet at the same time. Roger also made a change in his physique like I suggested, but instead of bulking up he took the other route and slimmed down. Jason remarked that he did it to increase his stamina for the long five set matches, and if we are honest that has been a problem for Roger. He just seems to run low on fuel in the late stages of a five set match. Also it will make him lighter on his feet and improve his speed.
Of course slimming down means less muscle and power, and for that he chose the bigger racquet to make up for the lost power. So on paper it makes sense. Lets quickly look at what would happen if he takes the route I suggested. He would bulk up in the upper body which would mean even less stamina for long matches, and he would keep the bigger racquet. It is not a bad option and I'll tell you why. For me getting overpowered on a regular basis have been a big issue for Roger for some time now, and it is happening with more and more frequency. Also take into account that Roger is not a great five set player anyway. Just to name a few examples he lost 6-2 in the fifth set to Nadal, Del Potro, and Murray recently. To me those losses were not as much physical as mental. As I have stated on many occasions mental fortitude and fight is not Roger's strength, even though it is still very good.
So even if he is slimmer and have more endurance it won't help him to win long matches if he is not mentally in it. On the other hand if he bulks up and has a more powerful racquet there will be a much slimmer chance of him getting overpowered, in which case he won't need to go to a fifth set and have good endurance anyway. In his prime he overpowered guys and didn't have to play many long matches, but these days he gets involved in these long matches because he is now the one getting overpowered, or he can't overpower guys like Simon anymore and have to go to five sets to win. Just food for thought. I am not saying my way is right and that Roger's way is wrong. I am sure him and his team have their reasons for what they are doing and they know what they are doing too. They have already chosen a bigger racquet head than I was suggesting and I think that was a good thing.
I am just looking forward for Roger to keep toughing it out and to start having success. I remain optimistic and believe he can win Gstaad. I am not discounting the possibility that Roger can win the US Open either. The night is darkest before the dawn and Roger has the ability to turn disaster into triumph. But first he needs to win Gstaad…