Hi friends. I hope you are all well and not too bored due to Roger's absence in Montreal. I tried to get into the action yesterday but it just wasn't the same without Roger. I was trying to think of something to blog about to keep us busy, but it wasn't until today when I received a comment that I thought of something. Before I continue, you will see that I added a widget where you can now rate my posts. I like it because you can rate my post according to how trustworthy, objective, complete, and well-written it is. I'd be very interested to know what you think of my posts in these areas so please vote. It will help me to improve as a writer. As for the topic of this post, Sakhi remarked on my previous post how Haas is aggressive on his backhand and asked me whether I think the new racquet will help Roger do the same with his backhand.
Personally I think that has a lot to do with confidence, because when Roger is playing well he is pretty aggressive on that side, especially when he starts hitting down the line winners. I thought in Hamburg that he was hitting his backhand pretty well, but it was too early to tell whether it was because of the racquet. That is not what this post is about however. In my reply to Sakhi I said that I'd rather see Roger be more aggressive on his returns. To me this is a much bigger issue. For as long as I can remember Roger has chipped his returns on the backhand side. Not on every backhand return but on a majority of them. You won't believe it but this is something I did myself when I was playing. It was probably the most brainless thing I ever did on a tennis court too. Why? Because it is a nothing shot. There is no purpose about it.
It was a lazy shot. It was also a safe shot. The chances of missing it was slim so it would keep me in the point, but I would have gained no advantage with it whatsoever. If a guy is serve-and-volleying it can be a good shot if you chip the ball low to his feet, because it has no pace and it would set you up nicely for the pass on the next shot. But how many guys are serve-and-volleying these days anyway? Tennis has become a base line game due to slower courts, coupled with racquet and string technology. So what does a chip return achieve? Yes it is a safe play that says 'now we're equal' as one of my readers put it. And that is exactly what it is. It would appear as of it makes sense, because once you are on equal terms you have cancelled out the server's advantage, right? Unfortunately it is not that simple.
The first problem with that is that today tennis is a a base line game as I've said earlier. The best players have very good base line games. Players like Djokovic, Murray, Nadal, and many others. Roger on the other hand falls in another category as the ones I've mentioned. He is much more offensive minded. Therefor it makes even less sense that he chips on the return. He is the most defensive returner of the big four. What he is in fact saying when he makes these chip returns against the base liners is 'lets start a base line rally'. It's the old stubborn Roger who wants to beat these guys at their strengths. These guys are simply too consistent and powerful for Roger from the base line these days. It would be much better for him to make an offensive return and try to keep the point short. Play the point on his terms.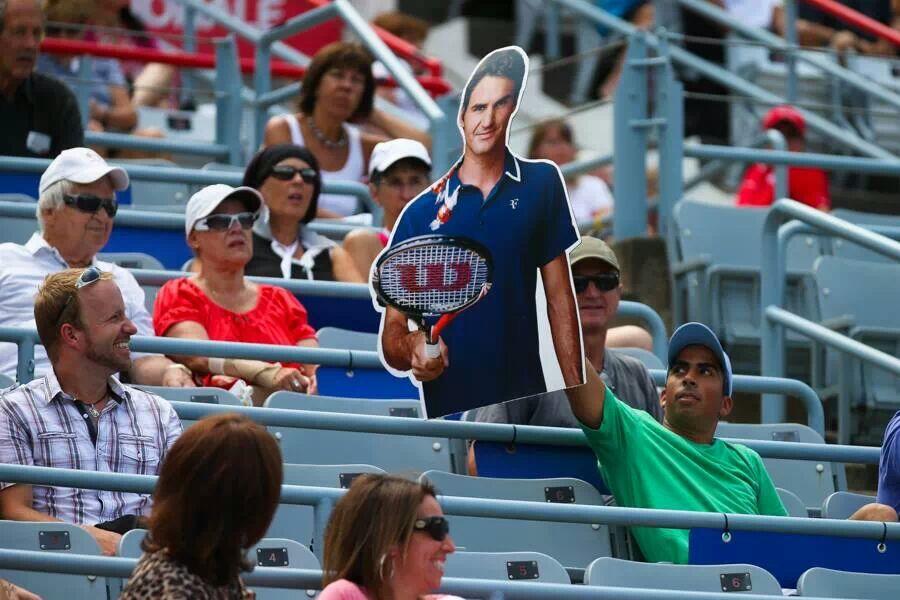 Roger is missed in Montreal
But in fact for me the chip return never makes sense, unless the conditions are really fast and you are chipping-and-charging. Even then it's risky with how good the guys are from the base line these days. Let me explain why I say it never makes sense. The server is expected to hold serve. As a returner you are already at a disadvantage. Why just try to get on even terms with a chip return? It is actually a very negative play. It makes a lot more sense to try and take the advantage back with an aggressive return. Sure it is a lot harder and more risky, but what do you have to lose? That's right: absolutely nothing. The server is expected to hold serve anyway. Therefor you have nothing to lose by taking a few risks. If you keep being aggressive it will already put mental pressure on the opponent, even if you don't break right away, because you are showing him your intentions.
And eventually your aggression is bound to pay off. Sure you will miss more returns, but you just need to string together a few good returns and boom, you have the all important break. You can keep missing and suddenly connect with a few. It only takes one game. The fact that Roger has a one-handed backhand puts him at a disadvantage on that side, but it doesn't mean he can't be aggressive. I found even a mishit backhand return that lands short is better than a chip return, because it shows the opponent your intentions. It makes a huge difference in the mentality of your opponent when you sit back and float the return back, compared to stepping in and coming over the ball. He is already expecting a good return by the way you set up. If you don't connect as well as you wanted to it is still better than a negative chip return.
At the very least it puts doubt in your opponent's mind. I saw Roger chip some more returns in Hamburg or Gstaad again and this issue has been on my mind for a long time. He actually did it when he had break back points. I understand that his confidence is low but he was already a break down. He then makes a negative chip return, not putting any pressure on his opponent. I can sort of understand him making that play when things are on even terms and he doesn't wana take a risk on a break point, but when he is already a break down? Just too negative. For the chip return to even get him on equal terms it has to be deep in the corner or very short. If it lands somewhere in between it gives the opponent a chance to attack. Or even he worse he misses the chip return. That's what happened at Gstaad. He either chipped it back short and the opponent took advantage, or he missed it.
I mean that is just unacceptable. Roger is not in his prime anymore where he can chip the return back and dominate from there on. His footwork and ground strokes are not what they used to be. He needs to find ways to make the points shorter, and taking more risks on the return is such a way. It is a habit he kept from his prime and it has now become a liability. This is a small thing that can make a lot of difference. Roger really needs to try and avoid those long base line rallies with these base line grinders. I am surprised Annacone has not been successful in helping Roger change this habit. I think sometimes he is looking to be more aggressive on the return but I still see him reverting to his bad habit way too often. Coupled with the new racquet, I think this is another small but significant way in which Roger can reinvent himself and become relevant again.
Loading ...
Last but not least, today is Roger's 32nd birthday. So happy birthday to the GOAT and may he have good luck with his back, so that the next year is yet another memorable one in tennis for him!